The book of the podcast of the exhibition.
I was extremely fortunate to enter the lockdown with a small number of library books on my table for reading. Our library has extended all loans out to June so I had plenty of time to read, despite still working from home, well I got an extra hour a day out of not having to commute didn't I.
Top of the pile was a large, glossy, exhibition catalogue for The Last Knight exhibition at the Metropolitan Museum in New York, dedicated to the armour and life of Maximilian I. Exhibition catalogues tick all the boxes for me as a SCAdian, they're usually lavishly illustrated with period objects, they include the catalogue entries for these objects which always have the factual details that we need to know, and they often feature essays on related topics from the most knowledgeable people in that field. Unlike general histories these essays are usually pretty in depth and specific and therefore tickle my research bone very nicely.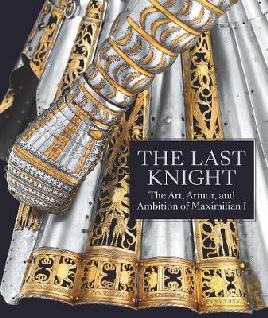 This tome did not disappoint. I read it cover to cover and enjoyed every word. I was fascinated to learn of the many different types of tournaments they had. I've read a few books on the topic but had no idea so many formats existed contemporaneously. I would love to have a go at making a blow apart shield- or at least cajoling Nick into it.
Related links
Chivalry Today podcast – Conversation with Christian Tobler at the Met exhibition of The Last Knight.
Theurdank: Epic of the Last Knight, item record at Te Puna, the National Catalogue.